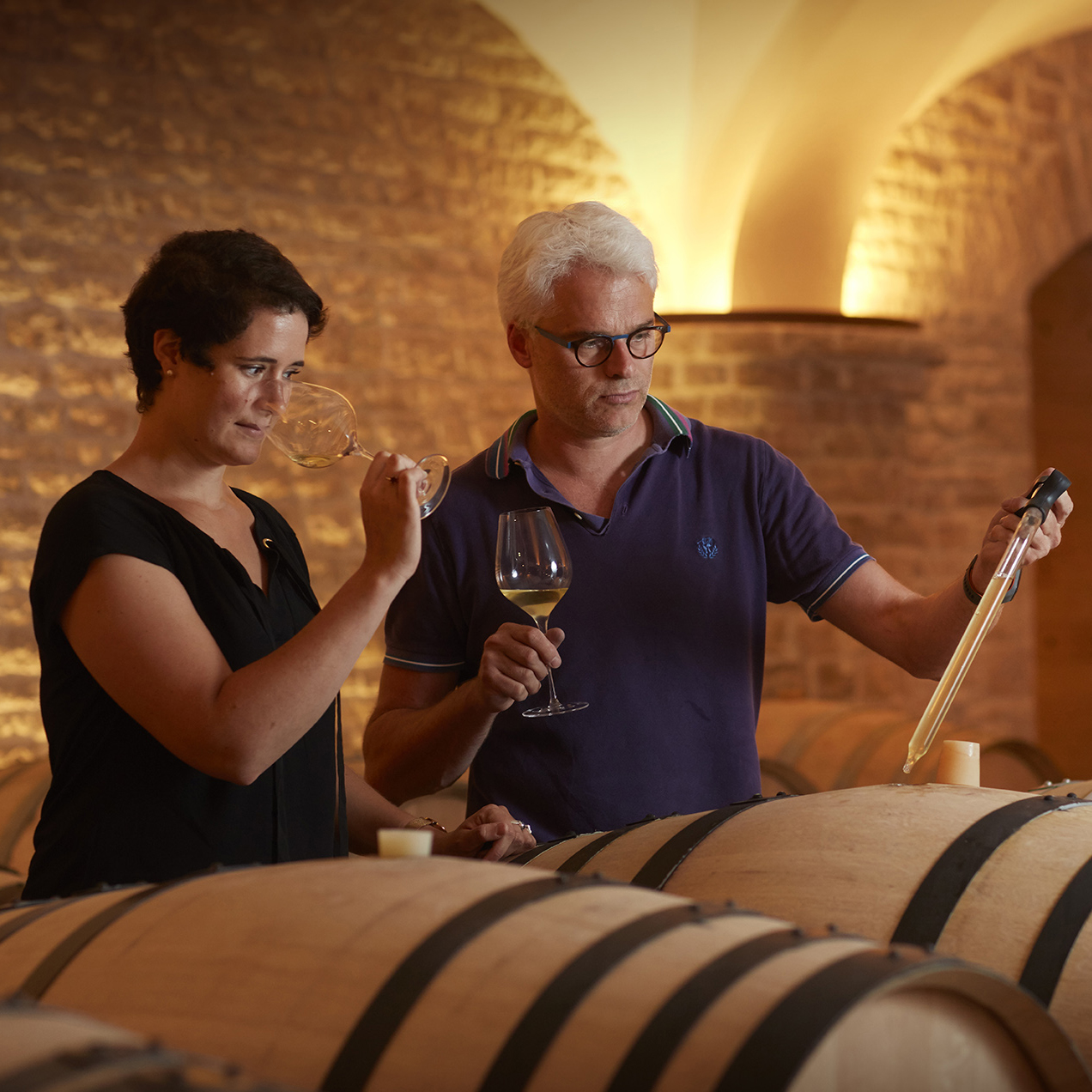 The constellation of whites
The wine house produces the equivalent of a 40-hectare estate, white wines making up around one third of the total production.
These are small, hand-stitched cuvées created according to several lines: Wines vinified without sulfur, organic wines, white wines made from traditionally red terroirs, subtle variations produced within the same area, or unusual twists like Aligotés aged in oak.
Vinification without artifice to "add nothing to the wine, take nothing away".
Respect for the personality of the terroir and the vintage means always working on the limit, using small yields and a minimalist approach to vinification.
- Manual harvesting in 20kg crates
- Manual sorting upon reception
- Long pneumatic pressing to respect the integrity of the fruit
- Temperature-controlled stainless-steel vats of 10-100 hectoliters
- No crushing to protect the grapes from oxidization
- Cooling the must to 12°C
- Transferring direct to the barrel with no settling
- Fermentation in oak barrels for several months


Ageing in large-capacity barrels form more harmonious oak
The wines undergo long ageing of between 16-18 months, in other word two winters in the cellar in 450-liter demi-muids, one third of which are new. These larger barrels minimize the influence of the wood to avoid making the wines heavy. The more impatient wines, such as the Macon-Igé, Pouilly-Fuissé, and Bourgogne Les Ursulines, remain in the cellar for less time.
During ageing, the wine is neither racked off nor stirred, which would make them fattier. The wines must evolve slowly over a long time in a redox atmosphere which provides protection.
The barrels are given a long, low-temperature toast to avoid excess vanillin and roasted notes in favor of good minerality.
The last stage before bottling involves one month in stainless-steel vats to hone their character, resulting in pure, crisp, elegant wines that are a faithful reflection of each terroir with good ageing potential.
The collection
Bourgogne Les Ursulines Full-bodied, generous. This is one of the most important wines in the range, since it opens tastings at the winery. It is essential that is captures the house style that is all about purity and fruit, and its ageing is worthy of the greats.
Bourgogne Chardonnay Nature d'Ursulines No sulfur added during vinification.
Bourgogne Aligoté Organic Crisp and uplifting.
Bourgogne Aligoté Les Moutots A delightful accompaniment to seafood.
Bourgogne Aligoté La Corvée Aux Moines An Aligoté in the style of a Chardonnay, a gastronomic wine.
Bourgogne Hautes-Côtes-de-Nuits Organic
Saint-Aubin Premier Cru En Remilly
Saint-Aubin Premier Cru Sur Gamay
Mâcon-Igé Château London A Chardonnay with a touch of Muscat, extremely rare in Burgundy.
Whites from red terroirs
Nuits-Saint-Georges Premier Cru Les Terres Blanches
Santenay Premier Cru Passetemps
Gems